Travis Strominger, Council Rock North Band, 2011-2015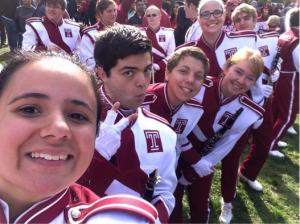 The CRBPA Newsletter interviewed Travis Strominger, who played clarinet for the Council Rock North High School Marching Band from 2011 to 2015. He was also Librarian in his senior year.
How has music been part of your college experience so far?
I knew that music was an important part of high school that I wanted to continue in college. I kept this in mind as I selected my school. Now, I am a member of the Temple University Diamond Marching Band, and have participated in several other ensembles, including the Night Owls Campus and Community Band (where students, faculty, staff, and community members all perform together in an ensemble) and Collegiate Band (a student ensemble consisting mostly of non-music majors). I am also considering picking up a minor in music, but am not sure yet.
In what ways has your musical performance improved or changed since high school?
My musical performance has improved by my attention to musical detail. I used to think that articulations and dynamics and such were a little important, but I have realized that the way these are played gives music an entirely different meaning. My teamwork on the field has also improved when learning drill and practicing, and also by helping others in many different facets ranging from answering their questions about music or marching, to simply showing them how to work the drill app we use.
Who or what have been your musical inspirations?
In the beginning, I really didn't have a musical inspiration. I just wanted to play the clarinet because that's what my sister played. But once I went into high school, my marching band director – Mr. Slutter – was a major part in my love for music. He always took pride in his work and always pushed me to strive for better things and to be a better person and musician.
What advice would you give to an incoming CR Band member?
I would say don't be shy. People in marching band are good people, and they don't judge. If you ever have a concern, most of them, if not all of them, would be more than willing to help you out. You will make some of your best friends in marching band, and you spend so much time with them that you really get to know them.  Most of my friends now are in band. Also, I would say to stick it out. It might seem like a drag the first few days of band camp (actually, that's more of a fact), but it gets WAY better and a lot more fun. It might also seem like a big time commitment, but it teaches you to be responsible and to manage your time properly.
What advice would you give to graduating band members?
Just because you are graduating does not mean that you have to give up something you love. If you don't continue with marching band in college (which you should do anyway because if you think high school marching band is fun, you have no idea how fun it is in college), play in another music ensemble.  Most of them do not have crazy rehearsal hours, and there are groups for music majors, non-music majors, and combined. Many of the groups at Temple only rehearse 2-3 hours per week, which is not bad at all.  Plus, you can get credit for it! Music has been a very important part of my college career, and I would not want to see people give it up because they think they won't have the time. I mean, if you are going to be up until 2:00 in the morning every day, you might as well do something productive with it!