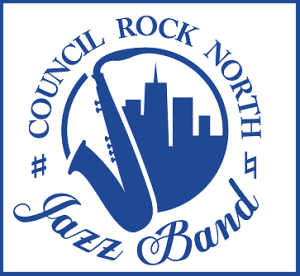 View / Download copy of Current Schedule
The Council Rock North Jazz Band is a premier instrumental ensemble in the CRN instrumental music program. The jazz band has a long and rich history of tradition and excellence that dates all the way back to the 1970's. The band compromises 20-22 of the best musicians in the instrumental music department. The band performs a variety of jazz styles that include swing, rock, funk, fusion, Soul, Latin styles, and many others. There are 4 sections of the band: Trumpets, Saxophones, Trombones, and Rhythm (Bass, Guitar, Piano, Drums, and Aux Percussion).
The band is a competitive, auditioned ensemble that rehearses 3 times a week. We perform at many competitions, and local venues. The CRN Jazz Band has developed a reputation as being one of top organizations in the area winning many Superior ratings, section awards, and countless solo awards.
The Jazz Band is an extra-curricular, audition-based ensemble open to all CRN students in grades 9-12. Students interested in the Jazz Band should attend the interest meeting early in the fall, and be sure to audition in November. Placement in the Band is dependent upon the audition. Rehearsals take place Monday's from 6:30-9, and after school on Wednesday's and Fridays from 3-5:30. There is a 2 -day jazz camp the week of Thanksgiving. The Jazz Band performs at Cavalcade of band festivals, independent festivals, and various other venues.